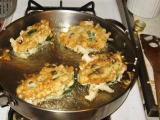 A roasted whole chicken is always better if you rub it inside and out with a good blend of herbs and spices. Here's one that I developed over the years that works good for me. I also take this rub camping if I plan to roast a chicken in my Dutch oven in the campfire coals. Enjoy!
Directions
Rub the chicken inside and out with this blend and allow it to sit for a few minutes prior to baking/roasting. It's good if you can get some under the skin too.
Not all the rub will stick to the chicken -- that's okay.
TIP: I also like to pour about 1/2 stick of melted butter all over the chicken, after it has been seasoned and is sitting in the roasting pot.
Most Helpful
Great simple recipe for a chicken rub. I like that it isn't full of thyme or sage and that it doesn't use a bunch of salt. I used sea salt and crushed the rosemary before rubbing the chicken. I also used your tip to add some butter and stuck it under the skin as well. Great stuff! It made the drippings taste great too, so it made a wonderful gravy as well. Thank you so much :)