Patrick's Camping-At-Home Pot Roast
Bone Man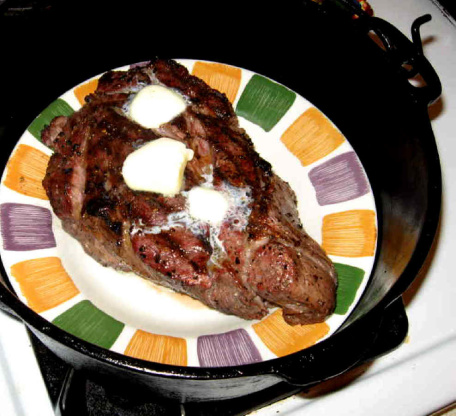 Here's a nice way to lend an outdoor cooking ambiance to a chuck roast or to an English roast. It will come out very tender and juicy. The vegetables finish up nicely also and make for a hearty one-dish meal. When I fire up my charcoal grill, I like to add some water-soaked wood chips to enhance the smoke flavor and if I'm doing hamburgers, for instance, I will brown a roast or two for later, storing them in the freezer until I'm ready to cook them as much as a month later. That way, you don't waste charcoal for just one meal and you get a very tasty pot roast to boot. This technique also makes a very nice base for my easy and flavorful au jus sauce: Beef Au Jus Sauce
Over a hot charcoal grill, add some water-soaked wood chips or chunks. Apple or hickory are best but any wood chips other than conifer species will do.
Rub both sides and the edges of the thawed roast with the olive oil and then rub in the salt and pepper. Grill this roast for about four minutes on each side, just long enough to brown it and maybe produce a few "blackened tips".
If you're not going to cook the roast right away, allow it to cool, place it in a zip-lock freezer bag, and store it in your freezer until it's ready for use. In this case, thaw it before re-commencing the cooking process.
If you're going to cook the roast right away, pre-heat your oven to 275-degrees F.
In a roasting pot or Dutch oven, pour in the 1 cup of water and then place an oven-proof bowl or grill in the pan to keep the roast raised above the water level. Lay the roast in and cut the butter into chunks and lay them around on the roast.
Cover the cooking pot and place into the pre-heated oven to roast for 3 hours. At the end of the 3 hours, remove the cooking pot from the oven, turn the roast over, and place the vegetables on top. If you're using the Mrs. Dash seasoning, sprinkle it over the vegetables at this time.
Replace the roast into the oven and continue to bake for another 75 minutes. Check it at the end of this time and if it's extremely tender, (pulls easily apart with a fork), then it's done. If not, bake it for another 45 minutes and check it again (but this will probably not be necessary).
Allow the roast to cool on a platter with the vegetables for 15 minutes prior to serving. Use the drippings/water in the cooking pot as a base for making gravy or au jus sauce. Leftover cold meat makes for great sandwiches on crusty Kaiser rolls with a little horseradish sauce spread on them.