Patrick's Baked Spaghetti
Bone Man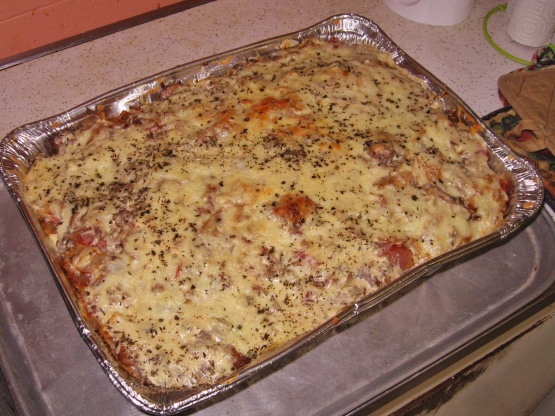 This is a very rich and creamy, non-tomatoey, (even though it includes some tomato), baked spaghetti. It's my most-requested recipe from friends. I gave the ingredients a lot of thought before preparing it the first time and it came out just right -- I've never changed it over the two years I've been making it. Reasonable substitutions won't hurt this recipe -- use what you have. This is a simple recipe and most beginners can easily prepare it.

Absolutely wonderful! This is a different take on spaghetti because it doesn't have the typical tomato sauce. It makes a lot but freezes well. I would recommend this highly to anyone looking for a great dish to serve to a group or to eat all by yourself. The flavors are spot on and I think anyone would love this- if I decided to share.<br/>I'm planning to make Patrick's Baked Spaghetti again soon and freeze in a few smaller containers on keep on hand when I want something hot and bubbling out of the oven or to share with a sick friend.
2

tablespoons extra virgin olive oil

2

onions, medium, diced

3

tablespoons green chilies (canned, diced)

8

ounces spaghetti sauce (any)

16

ounces chicken broth, divided

8

ounces canned mushrooms (drained)

16

ounces diced tomatoes (canned, drained)

1

teaspoon dried basil (garnish)
1 1⁄2 teaspoons garlic powder
1 1⁄2 teaspoons italian seasoning

1

teaspoon salt
10 1⁄2 ounces cream of celery soup
10 1⁄2 ounces cheddar cheese soup
3⁄4 cup sharp cheddar cheese, shredded
3⁄4 cup monterey jack cheese, shredded
1 1⁄2 lbs ground chuck, browned and drained

2

fresh garlic cloves, minced

1

lb spaghetti, cooked and drained
cooking spray
Pre-heat the oven to 350-degrees F.
In a large skillet over medium heat, heat the olive oil and add the diced oinions, green chilis, and minced garlic. When the onions begin to develop some brown tips, add the Italian seasoning, mushrooms, diced tomatoes, garlic powder, salt, half of the chicken broth, spaghetti sauce, and the browned burger. Reduce to a simmer, stir, and after 5 minutes, turn off the heat.
Spray a very large casserole dish with the cooking spray, (I use two of the large aluminum throw-away baking pans, about 11" x 16", with the high sides, one inside the other for stability), and ladle in about 1 cup of the finished sauce, then layer on half of the cooked spaghetti. Dot the top with the cheddar cheese soup. Ladle on about half of the remaining sauce and cover it with the cheddar cheese.
Layer on the remaining spaghetti. Mix the remaining chicken broth with the cream of celery soup and pour it over the spaghetti, (it will mostly run down inside.) Then cover the spaghetti with the remaining sauce and top it with the Monterey Jack cheese. Sprinkle the dried basil over the top.
Place the casserole on the lower-middle rack, uncovered, and baked for 35-40 minutes, or until there are some light brown spots here and there on top. Allow to stand for 15 minutes prior to serving.
NOTE: if you want this dish to taste a little less rich, don't use the shredded cheddar cheese. You can also increase the amount of spaghetti used without much change in the dish's flavor or consistency.