Patrick's Artichoke Pasta Salad
Prep 15 mins
Cook 25 mins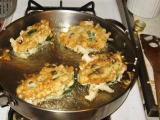 This recipe is truly a "scratch" one but, after your culinary efforts, your guests will be mightily pleased to have tasted a pasta salad that is bright, new, and delicious. You will not find this recipe anywhere else because it took me about 6 months to develop it and I have only posted it HERE on Recipezaar! I wanted a pasta salad that used an Italian-based dressing and which packed a LOT of flavor, slightly creamy. Through much research, a few false starts and, blind luck, I got the pasta salad that I wanted. It's fairly easy to put together but it does take some time. It's great for a covered dish or as a side dish to either fried chicken or pork chops. I plan to use it for summer barbecues as well. And, once again, I have to thank Dee514 for her spectacular Italian Spice Blend recipe (Italian Blend Spice Mix) which I have listed in the directions and which is an integral ingredient. For SAINT PATRICK'S DAY, use all GREEN PASTA (spinach pasta)! I hope you enjoy this pasta salad as much as I do.
12 ounces rotini pasta, tri-color, dry
2 tablespoons pimientos, diced, canned
14 ounces artichoke hearts, chopped, canned, drained but not rinsed
1 tablespoon Italian spices, see directions
1 tablespoon Italian salad dressing mix, dry, e.g, Good Seasons brand
2 tablespoons extra virgin olive oil
1 tablespoon white wine vinegar
6 tablespoons water
1 1⁄2 teaspoons sugar
3 tablespoons parmesan cheese, freshly grated
1⁄2 cup black olives, sliced
4 tablespoons mayonnaise
Directions
Cook the pasta al dente, drain and place into a large mixing bowl.
Add the pimientos, artichoke hearts, and black olives.
In a small mixing bowl, blend the Italian spices, Italian dressing mix, olive oil, vinegar, water and sugar. Then, add the mayonnaise last, especially if using a blender (do not blend mayonnaise for more than 30 seconds). Pour this dressing over the pasta mix.
Top with the grated parmesan, cover and refrigerate for at least 2 hours prior to serving.
NOTE: A batch of "Italian Spices" can be made by blending the following (Dee514's recipe): 2 tablespoons dried basil, 2 tablespoons dried marjoram, 1 tablespoon garlic powder, 1 tablespoon dried oregano, 1 tablespoon dried thyme, 1 tablespoon dried rosemary, 1 tablespoon crushed red pepper flakes.
Reviews
Most Helpful
I tasted this directly after making it, less the parmesan, and it is spectacular. Both my DH and DD said it tasted like something you would get in a nice restaurant. The dressing is a perfect blend, the mayo gave it a creamy texture and mellowed out the vinegar. I am going to add a bit more olives (calamata olives are my fave) and more pimento. EXCELLENT!!!!! This will be such a hit for our 4th celebration. Thank You Bone Man.

Bone Man, you've got a hit on your hands! I actually didn't think this was going to be popular (because of the artichokes, not the recipe!). To my surprise, 3 of the 4 kids at our Father's Day cook-out ate more than one serving, all the dads loved it, as did the moms! Great addition to the meal (we had grilled brats w/onion) and to my recipe collection. Thank you for sharing your creation here.
This is a wonderful, refreshing pasta salad! As others have said, it wasn't too saucy, but had just the right amount of liquid. The spices were great (especially loved the rosemary in the Italian Spice Blend) and gave it a unique taste. My only departures from the recipes as written were to use whole wheat rotini, Stevia in place of the sugar, and light mayo instead of regular. Next time I plan to throw in some diced tomatoes and bell pepper.