Patatas Bravas - Potatoes for the Brave, Spanish Style!
Swirling F.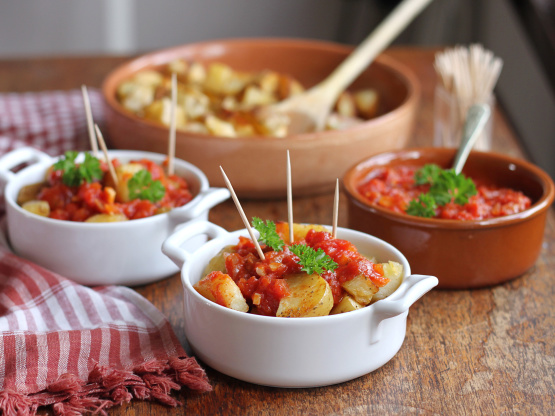 There are many recipes for this famous Spanish tapas dish - this recipe was given to me by a Spanish friend from Madrid, and is the only recipe I use now..........I like the fact that the potatoes are baked in the oven, making it easier to prepare & socialise with a glass of Sangria or two! In Spain, Patatas Bravas is often served with mayonnaise or alioli - however you choose to serve it, this is a "must" for your Tapas table!

Top Review by Satyne
These were lovely. I should have chopped up onions and tomato more finely but didn't because I was a lazy butt. I let myself down, but the flavours were nice. I found it nearly too spicy for myself, but it was well enjoyed by my guests. Thanks.
(Serves 10-12 with other dishes).
Prepare ahead by heating the oil in a pan, add the onion and fry for about 5 minutes until softened. Add the garlic, tomatoes, tomato purée, two types of paprika, chilli powder, sugar and salt and bring to the boil, stirring. Simmer for 10 minutes until pulpy. Set aside for up to 24 hours.
To serve, preheat the oven to 200C/gas 6/fan oven 180°C Cut the potatoes into small cubes and pat dry with kitchen paper.
Spread over a roasting tin and toss in the oil, then season. Roast for 40-50 minutes, until the potatoes are crisp and golden.
Tip the potatoes into dishes and spoon over the reheated sauce.
Sprinkle with the parsley. Serve with cocktail sticks.