P'at Lassi (Indo-Korean Yogurt Drink)
Kitty Z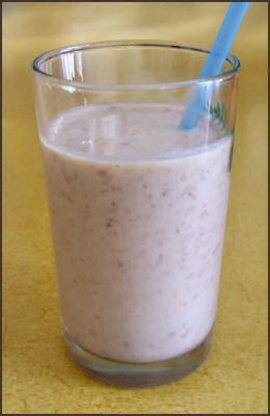 P'at is the Korean name for the azuki bean, the source of the "sweet red bean paste" often used in Asian desserts. They have a delicious rich flavor which I find matches well with the creaminess of an Indian-style lassi. You should be able to find canned sweetened azuki beans at any Asian supermarket. "Plain" yogurt in Korea always has sweeteners added, if using the more natural type, you may wish to add a touch more sugar to this, depending on the sweetness of the azuki beans.
Pour all ingredients into a blender, starting with the beans at the bottom.
Blend thoroughly, making sure beans are chopped up and well incorporated.
If the mixture is too thick, blend in small amounts of water until desired thickness is reached.