Pastrami and Pickle Pan-Fried Sandwich
gailanng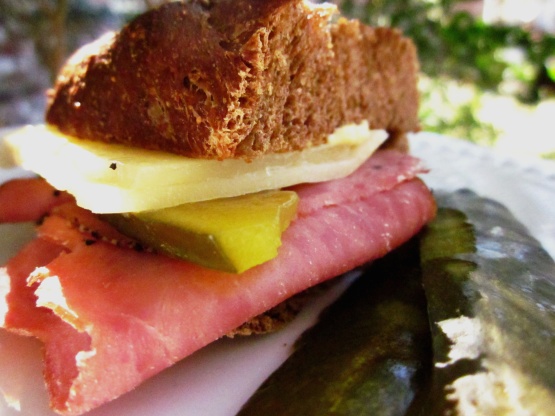 From a feature in our local paper. I have estimated cooking time on have to cook the sandwiches in 2 batches.

Great tasting sandwich, even on white bread and without the pickle! Picked up some pastrami at the deli and found your recipe. I saute'd some onion in lieu of the pickle (didn't have any). Made 12-27-11. Thanks for posting I'mPat.
Place the mayonnaise and custard in a bowl and mix well to combine.
Spread one side of each slice of bread with butter and the other side with the maonnaise mixture.
Divide the cheese, pickle and pastrami between 4 slices of bread, ensuring the buttered side is on the outside, and sandwich with the remaining bread, once again ensuring buttered side is on the outside.
Heat a large non stick frying pan over low heat.
Cook the sandwiches, in batches for 3-4 minutes each side or until golden and cheese is melted.