eabeler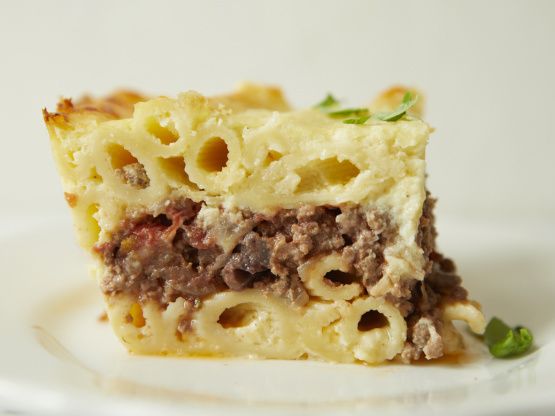 A great pasta and ground beef casserole. Hearty and delicious. The beauty of this recipe (besides great taste) is it's ability to freeze (and defrost) so well, with no loss of flavour, making it ideal for OAMC (once a month cooking).

this is a great family dinner and i only made a few changes to lower the fat. i cooked the meat sauce but drained the fat before i added the tomatoes and the other ingredients. to the pasta i only added 1 c of skim milk and 4 tbsp butter, that was more than enough. i made the bechamel with skim milk too, and for the cheese i used a mixture of romano, parmesan and feta. i browned the top under the broiler for 2 minutes at the end. the first few portions didn't hold their shape, but as it cooled it was much easier to serve. this is labor intensive but worth it, everyone had seconds!
For the meat sauce, put some olive oil in a large pot; saute onion until lightly browned; add garlic; add meat and cook until brown, crumbling with a fork; add remaining meat sauce ingredients to skillet; mix well; cover and simmer for 1 hour, stirring occasionally, until quite thick; let mixture cool; remove and discard cinnamon stick and bay leaf.
Prepare pasta by boiling until al dente in plenty of boiling, salted water; drain and place pasta in a large bowl; add butter, milk, eggs and 1/2 cup cheese; gently stir to coat; set aside.
To prepare bechamel sauce, melt butter over medium heat in a saucepan; stir in flour until smooth, cook, whisking for 2 minutes; gradually add milk, stirring, until thickened; lower heat; add salt, pepper and nutmeg; remove from heat.
In medium-sized bowl, beat 3 eggs; slowly add hot cream sauce to eggs; stir thoroughly so eggs don't curdle.
Preheat oven to 350°F and butter or oil (with olive oil) a large baking pan (my pan is about 18" x 10").
Empty 1/2 of the penne mixture over bottom of pan; cover evenly with all of meat sauce; sprinkle 1/3 of the cheese over meat sauce; add remaining penne mixture, spreading evenly; sprinkle another 1/3 of the cheese over top; pour bechamel sauce evenly over entire casserole; top with remaining cheese.
Bake until bechamel sauce sets and has golden-brown patches across top, approximately 45 minutes to 1 hour; cool at least 20 minutes before cutting into pieces for serving.
Freezer Notes: Once the baked pastitsio has completely cooked, cut serving-size pieces, double-wrap in foil and freeze. Defrost in the usual manner and reheat in microwave (or oven) for a delicious, quick meal, when there's little time to cook and dinner is ready and waiting in the freezer!