Pastitsio - Greek Lasagna
lets.eat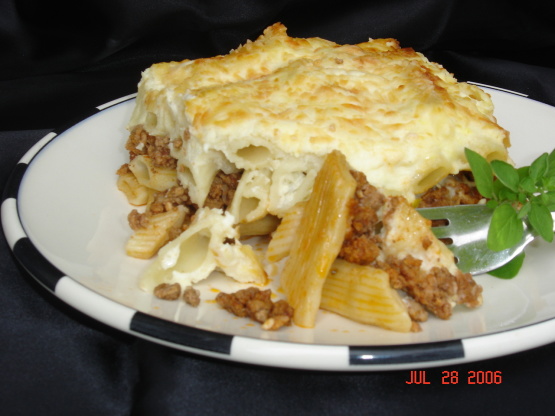 This is a simple version of a Greek classic.

I haven't made Pastitsio in years! I must have improved my cooking skills because in the past it seemed like it took FOREVER to prepare this, but this was prepared effortlessly. This was drier than I'm used to, and there seemed to be too much pasta-or perhaps since penne pasta is so large I wasn't accustomed to it, I usually use elbow macaroni. Thank You KelBel!
Preheat oven to 350 degrees.
Cook pasta and drain.
While pasta is cooking, brown meat in heavy skillet, add onion and garlic and cook until soft.
Mix in cinnamon and tomato sauce.
In a saucepan, melt butter, whisk in flour and cook 1 minute, whisk in milk and simmer 20 minutes.
Add beaten eggs and 1/4 cup parmesan to white sauce.
In a buttered two quart casserole dish, add half pasta, top with meat mixture, add the rest of the pasta.
Pour white sauce over the top.
Sprinkle with remaining parmesan cheese.
Bake 60 minutes.