Pastiera With Strawberry Sauce - Easter Ricotta Cake
GreenMtnGirl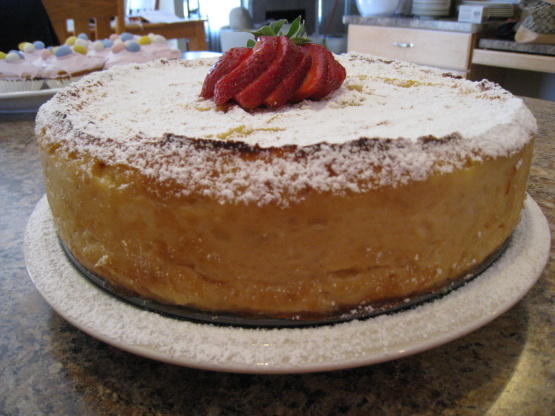 I hunted through a dozen pages of recipes to make sure this was not duplicating, couldn't find one like it. This is an incredible cake--light, creamy-like custard, flavoured lightly with vanilla, all in one. The perfect Easter pastiera, originally from Martha Stewart Living.

I made this for Easter adn brought it to my Italian in-laws.. they loved it! I used vanilla and baked it much longer(prob. because I didn't drain the ricotta) until it started to brown slighty around th edges of the top. I didn't make the sauce-it was great without it, but will try it next time. Excellent cake, you won't be disappointed!
Bring milk to a boil in a large sauce pan over medium high heat.
Stir in rice, cinnamon, salt and vanilla bean.
Reduce heat to medium low, cook, stirring occasionally with a wooden spoon, until rice is very tender and has absorbed all liquid, about 30 minutes.
Remove pan from heat, stir in 3/4 cup granulated sugar, cover, let cool, stirring occasionally.
Discard vanilla bean.
Preheat oven to 350°F degrees.
Butter and flour an 8-inch springform pan.
In a large bowl, fold together, the rice mixture, ricotta, whole eggs and egg yolks, and remaining 1/2 cup sugar, very carefully using a rubber spatula.
Pour into prepared pan.
Bake until golden, 65 to 70 minutes, cover with foil if starting to brown too much.
Transfer pan to cooling rack.
When cake has cooled completely, run a knife around edge to loosen.
Gently remove ring; transfer cake to a serving plate.
Sprinkle with confectioners' sugar, and serve at room temperature with sauce.
Sauce:.
Combine all ingredients in a medium nonreactive saucepan.
Cook over medium low heat, stirring occasionally, until berries are soft, 5 to 7 minutes.
Serve warm or at room temperature.