Nif_H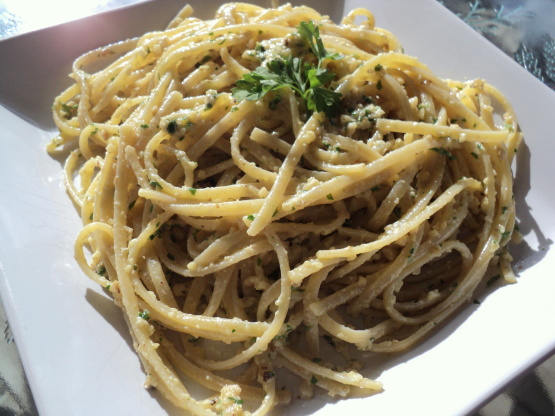 From Mark Bittman's "Quick and Easy Recipes" from the New York Times. This is like a winter pesto, with a higher percentage of walnuts and parsley (always available) filling in for summer's basil. If you have basil though, by all means use it.

Top Review by Nif_H
This pasta is so good!! The walnut pesto was so easy and has a terrific flavour. I used parsley but I can see that basil would be very good too. I made 1 serving of this and thoroughly enjoyed my lunch today. Made for my adopted chef for PAC 2011. Thanks FLKeysJen! :)
Bring a large pot of water to a boil and salt it. Meanwhile, combine the nuts, parsley and garlic in a small food processor (or use a mortar and pestle) and turn the machine on. With the machine running, add the oil gradually, using just enough so that the mixture forms a creamy paste. Season to taste with salt and pepper.
Cook the pasta, stirring occasionally, until it is tender but not mushy. When it is ready, drain it--reserve some of the cooking water--and toss with the sauce; if the mixture appears too thick, thin with a little of the pasta-cooking water or more olive oil.
Serve!