Pasta With Walnut Lemon Cream Sauce
WiGal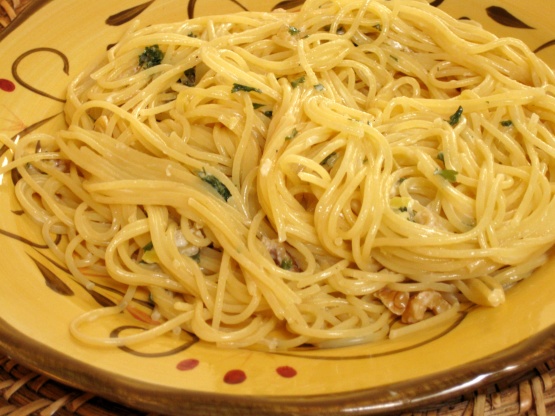 Adapted from California Walnuts. This speedy main meal or delicious side is ready in less than 30 minutes. Garnish with extra grated lemon peel and walnuts. Note: I've made this minus the mushrooms and still great.

Pretty sure THIS is the food of the gods... Lovely delicate lemon flavor in a velvety cream...Crunchy toasty walnuts. Oh my, this is good! I used ditalani pasta and omitted the mushrooms because sadly I had none to add, but it was still an exceptional dish without them! I will make this again and again!
1

cup whipping cream

1

teaspoon grated lemon peel

1

lb pasta, uncooked (linguine or penne works well)

2

tablespoons butter
1 1⁄2 cups sliced mushrooms
1⁄3 cup chopped walnuts, toasted

2

tablespoons freshly grated parmesan cheese
salt and pepper

2

tablespoons chopped fresh parsley
In small saucepan, stir together whipping cream and lemon peel; simmer until cream is reduced by one-third, about 15 minutes.
Cook the pasta according to package directions.
Meanwhile, in large skillet, melt butter; saute mushrooms. Drain pasta and combine with cream, mushrooms, walnuts and cheese; toss lightly. Add salt and pepper; sprinkle with parsley.