Pasta With Tuna, Bacon, and Broccoli
lazyme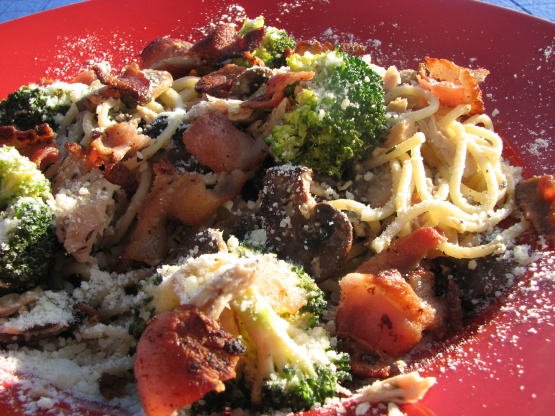 I know how this sounds, but it is actually a really great combination. You can change it up by adding chicken, shrimp or scallops. I also like sauted mushrooms in it. It's great for left over spaghetti noodles when you're tired of plain old marinara.

I think this has a lot of potential, but I am not sure that the broccoli is the right vegetable for this. To me, broccoli should be with a cream sauce. I think spinach might go well here, and some chopped tomatoes as well.
heat olive oil and saute onion and garlic until soft.
add broccoli and tuna, cook until broccoli is tender.
add bacon, Italian seasoning, black pepper and wine. Heat through.
Add to pasta and toss with remaining olive oil and cheese.