teresas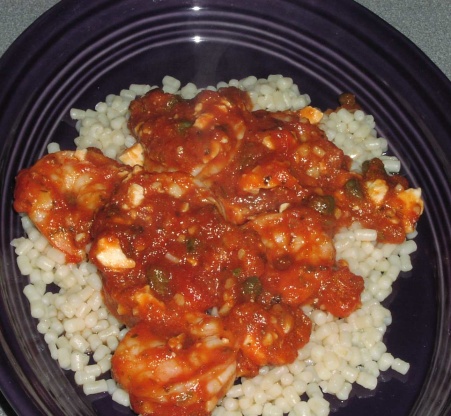 This is an old Weight Watchers recipe before there were points, but I think it's about 4 points. Recipe source: Weight Watchers Slim ways with pasta.

I selected this for a few reasons...I wanted to use up some leftovers and all the ingredients sound like it would be full of flavor. It was, boy am I glad I made this. I thought I had orzo pasta but no it was acini pepe pasta so that is what I used. Both are small. I did use leftover crushed tomatoes in place of the drained and chopped tomatoes. Those are the only changes I made. Very tasty and quick to fix. The capers added a nice burst of flavor to the dish. Thanks ellie for posting this delicious dish.
Shell and devein shrimp.
In a large skillet heat olive oil and then add capers and garlic; cook stirring fo r1-2 minutes.
Add shrimp, tomatoes, oregano and tarragon to skillet and saute for 5-6 minutes, stirring occasionally or until shrimp is pink. Remove from heat and stir in feta cheese; toss to combine.
Spoon shrimp mixture over the orzo; toss.