Pasta With Sausagemeat and Carrots
loof751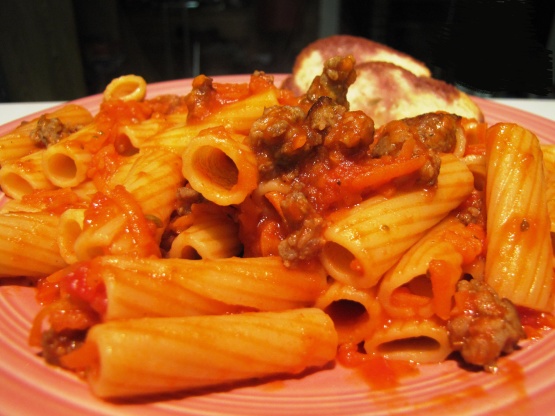 I know it sounds odd but it really is quite delicious. The carrots combine with the sausage to form an unexpectedly good sauce which is thick and satisfying. It's so easy to make and a favourite supper dish in our house-even the kids love it! Use the best sausage you can-it makes a difference! This dish freezes really well and keeps in the fridge for up to 3 days!
This was very much enjoyed. I was hoping for a strong carrot flavor in the sauce, just because that would be so different and unique, but the sauce only had a mild carrot flavor. It was still quite good though- much better than traditional tomato-based sauces, which I'm pretty bored of. I accidently bought cooked sausage, but it still turned out fine. Added double the amount of stock because my carrots were huge, and a 1/2 teaspoon of fennel seed.
If using whole sausage remove meat from skins.
Grate/shred the carrots.
Puree the tin of tomatoes.
Heat the oil and butter in a saucepan and cook the onion until translucent.
Add the sausage meat and lightly brown, breaking it up with a fork.
Add the carrot and stir for a few minutes.
Add the tomatoes, stock bay leaf and oregano and cook, covered over a low heat for 30 minutes.
Taste for seasoning-if the sausages are spicy you may not need any.
Cook and drain pasta.
Mix pasta with the sauce and serve.
Serve cheese separately.