Pasta with Roasted Red Pepper Sauce
Nimz1466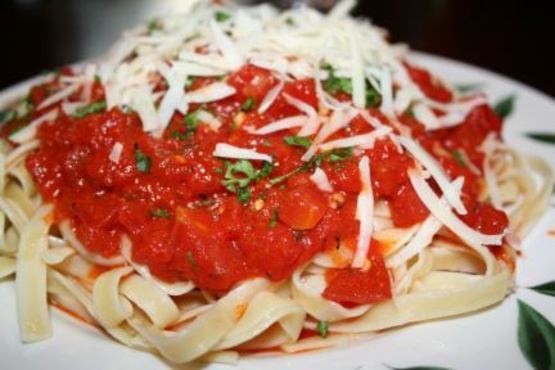 The roasted red peppers in this dish really add a special "something" to the tomato sauce. Growing up, we had pasta with tomato sauce at LEAST once a week. This recipe really adds another depth of flavor to a very familiar dish

This was a very rich, tasty and delightful sauce. I have never made a tomato sauce without some type of meat and it was a delightful change of pace. The roasted red peppers added a very rich flavor to the sauce. Even my pasta hating son loved it. I followed the directions exactly except I could not find pecorino romano cheese, so used regular romano cheese. Served this with cesar salad and french bread to make a wonderful meal for my son and I. Thanks KB for a great recipe.
Cook pasta in a large pot of boiling salted water according to package directions. (I usually boil mine for 7 minutes, and its perfect eveytime)
For the sauce: Place drained roasted red peppers in a blender or food processor, and puree until smooth.
Heat olive oil in a large skillet over medium high heat.
Add the garlic and shallots and saute for 2-3 minutes.
Next add the roasted red pepper puree and saute for another 2 minutes more.
Stir in the white wine or vegetable stock, and reduce suace for another two minutes.
Then stir in the crushed tomatoes, taste the sauce and add salt, pepper and/or crushed red pepper according to you and your family's taste.
Stir in half of the chopped parsley.
Cover sauce and simmer until pasta is ready.
Drain pasta, toss with the sauce, and pour into a serving dish.
Top with remaining chopped parsley and Pecorino Romano cheese, and serve.