Pasta With Roast Vegetables
JessD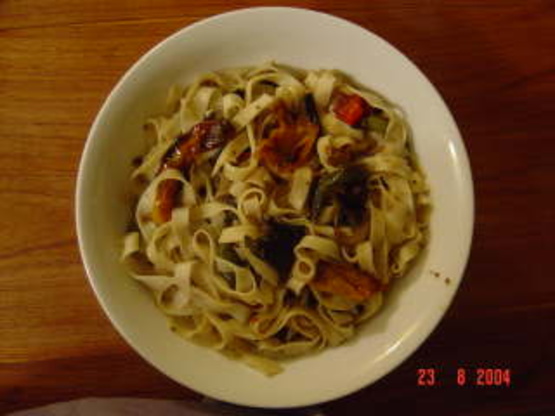 This dish has a wonderful smokie flavour and although vegetarian and healthy tastes fantastic. It is easy to make infact I made it up just to get rid of a whole heap of veges to empty the refrigerator before going away! This dish is really flexible, add or subtract anything at all to suit your taste.
Cut Tomatos into eighths, slice Zucchini into strips, cut Capsicum into large squares.
Place in a"non stick" baking pan, sprinkle with plenty of Salt, Pepper, Olive oil and the Brown sugar.
Sprinkle the smashed Garlic on top.
Bake in a 350F or 180C oven for about 40 minutes or until golden.
Meanwhile In a saucepan saute onion, add cubed Eggplant and sliced Mushrooms.
Cover, cook on low heat for 20 minutes.
Combine baking pan ingredients into the sauce pan, (scraping in all the pan juices also) when everything is cooked.
Turn off heat and allow to rest while pasta cooks.
Mix well into pasta, sprinkle with pecorino and parmesan cheeses if desired.