Pasta With Roast Vegetable Sauce
-Sylvie-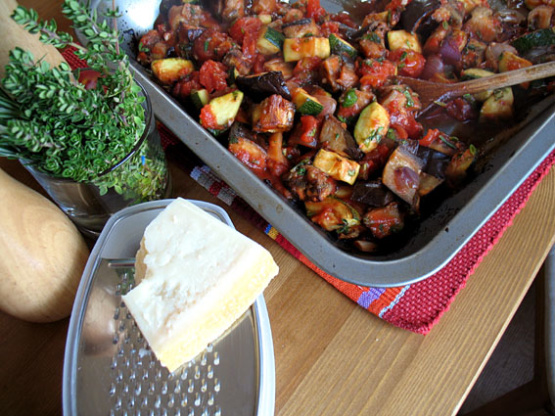 Another Epicurious recipe - vegetarian to try.

This deserves every single of those five stars. It takes a little time to make, but it's not much effort really once you have chopped the veg and well worth every minute. My meat loving BF said that surely vegetables couldn't taste this good and it's healthy to boost! I used vegetable stock instead of the reserved cooking liquid to thin the sauce a little and I didn't have any parsley, so I just used a little more basil and thyme (I don't really like parsley much anyways). The only thing I would change would be to add the garlic with the tomatoes, as roasting it minced for twenty minutes at that temperature meant that it just got brown and started to taste bitter. Luckily you couldn't taste it in the end result though. This is a brilliant dish that will definitely become one of the regulars in this house. Thanks for sharing.
Preheat oven to 400°F.
Arrange eggplant and onion on large rimmed nonstick baking sheet. Drizzle with oil. Sprinkle with salt and pepper.
Roast vegetables until beginning to brown, stirring occasionally, about 25 minutes. Stir zucchini and garlic into vegetables; continue to roast until all vegetables are tender, about 20 minutes longer.
Stir crushed tomatoes into vegetables on baking sheet; roast until heated through, about 10 minutes.
Meanwhile, cook pasta in large pot of boiling salted water until just tender but still firm to bite, stirring occasionally. Ladle 1/2 cup pasta cooking liquid into small bowl; reserve. Drain pasta. Return pasta to same pot.
Add roasted vegetable sauce and all herbs to pasta and toss to blend.
Gradually add enough reserved pasta cooking liquid to moisten as desired.
Season to taste with salt and pepper. Transfer pasta to bowl and serve.