Pasta With Red Sauce and Salmon
Lille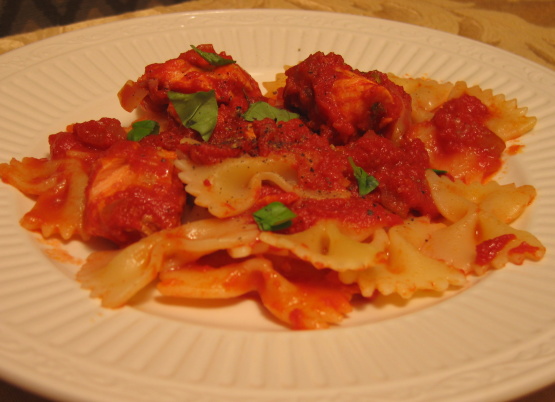 When preparing salmon, I usually cut off the skinny edges and freeze them in a zip-lock bag. Then there's fish on hand to throw into a quick dish like this one.

An easy way to stretch a little bit of fish - this makes four very hearty servings (or six more modest ones). However, it doesn't much show off the salmon - to my taste, this amount of fennel was overpowering, and in general the seasonings support the tomatoes, not the unique flavor of salmon.
Heat oil in large pan over medium heat.
Add onion; cook 3 minutes.
Add garlic; cook an additional 2 minutes.
Add next 6 ingredients; simmer 20 minutes, stirring occasionally (gently to avoid breaking apart salmon).
Cook pasta while sauce is simmering.
Add water if sauce becomes too thick.
Add parsley and basil a couple of minutes before serving.