Pasta With Red Pepper Sauce
Bayhill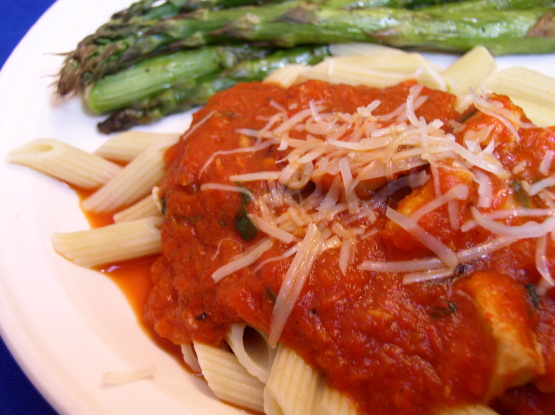 Sometimes you need a break from ordinary pasta sauce. Sweet red pepper sauce replaces chunky meat sauce and cooks in less time. From Better Homes and Gardens. This sauce is even good over chicken!
Delicious! We loved this quick, easy, and fresh tasting sauce. The peppers and garlic were not quite done after 20 mins. so I put them under the broiler to finish cooking. I adjusted the seasoning, adding more salt, some black pepper and a little sugar. Also, I added some diced, precooked chicken to the sauce. I served this with multi-grain penne pasta and topped it with fresh Parmesan cheese. Thank you for sharing this wonderful recipe...it is definitely a keeper!
Cut peppers lengthwise into quarters; remove stems, seeds and membranes. Place peppers, cut side down, on a large foil lined baking sheet. Add garlic cloves. Bake at 400 for 20 minutes or until peppers are tender and lightly browned.
meanwhile, cook pasta according to directions on box.
Add peppers, garlic and remaining ingredients (except salt) to a food processor. Blend until almost smooth. Transfer to a saucepan, add salt and heat over medium-low heat until heated through.
Serve over pasta and top with parmesan cheese.