Pasta With Pumpkin & Pesto
Mandy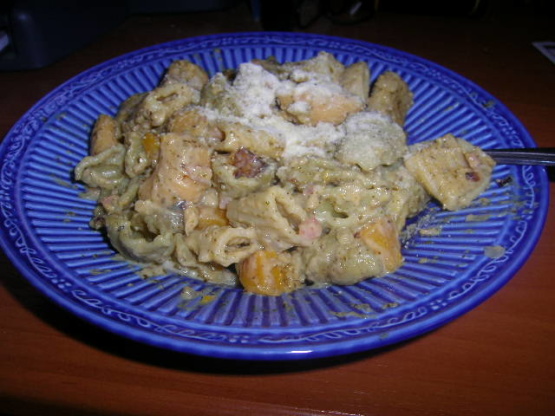 I like things that are quick & easy to prepare & this is no exception. This is a nice quick meal. I usually use a chunky pasta like vegeroni or penne and you can cut down the fat by using light evaporated milk if you like, I usually do. For a vegetarian meal just leave out the bacon. Much to my amazement this was even a hit with my 17 month old daughter. Tastes great cold too so could be a pumpkin pesto pasta salad!

I loved it but true test was getting the guys to eat something with so little meat as a main meal. They thought it was great and asked for it to be put on rotation. I used "Light & Creamy" evaporated milk (cuts calories and fat)and it was wonderful. Recipe didn't mention how large the pumpkin cubes should be so I made them into almost 2cm cubes. Only problem was there weren't any left overs for me to try them for lunch the next day.
Cook pasta according to pkt directions.
Whilst pasta is cooking, heat oil in a separate pan, add onion, bacon and pumpkin and cook for 2 minutes.
Add pesto sauce and combined evaporated milk and cornflour.
Bring to the boil stirring, simmer uncovered for approx 10 minutes If sauce thickens too much just add a little milk to bring it back to desired consistency.
Add salt and pepper to taste.
Stir drained pasta through sauce and serve garnished with toasted pine nuts and Parmesan cheese.