Pasta With Potatoes and Herbs
Pneuma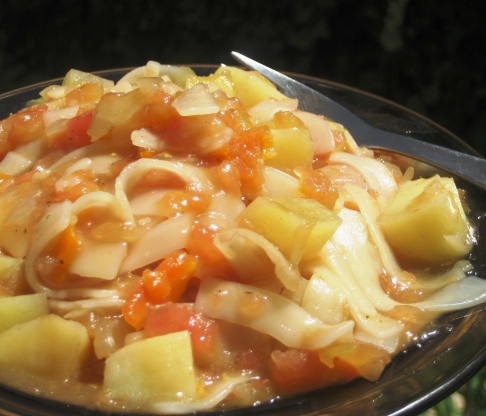 This is a hearty vegetable and pasta dish from the New Vegetarian Epicure. This works best with a nice sturdy pasta like rigatoni, cavatappi, cellentani, etc. I'm sure it would work well if you added some diced chicken or some cooked beans. I'm sure other herbs would work as well. I included some crushed red pepper as well.
1 1⁄2 tablespoons olive oil

1

bay leaf
1⁄2 teaspoon dried sage
1⁄2 teaspoon dried thyme

2

medium carrots, finely chopped

1

stalk celery, finely chopped

1

medium onion, chopped
salt, to taste

3

garlic cloves, chopped (or to taste)

2 -3

medium potatoes, peeled and diced
3⁄4 cup dry white wine

2

cups stock (your choice, original calls for vegetable, I used chicken)
1⁄3 cup chopped flat leaf parsley (I used a about a tablespoon dried)

5 -6

tomatoes, peeled and chopped with their juice (or a 16-oz can diced tomatoes)
pepper, to taste
1⁄2-3⁄4 lb sturdy pasta
parmesan cheese, for topping
Heat olive oil in a large non-stick saute pan and add the bay leaf, sage, thyme, chopped carrots, chopped celery, chopped onion and a generous sprinkle of salt.
Cook over medium heat stirring frequently, until the vegetables just begin to color.
Add the garlic and stir for another 2 minutes.
Add the diced potatoes, stock, and parsley to the vegetables in the pan, lower the heat to a simmer and cook till the potatoes are tender, about 15 minutes.
Add the white wine and the chopped tomatoes, season with additional salt and some pepper and continue simmering till the tomatoes are falling apart and the liquid is somewhat reduced.
Meanwhile, bring a very large pot of water to a boil, cook the pasta in it till al dente, tender firm. Drain the pasta and stir it into the potato sauce (or serve separately if preferred).
Serve at once and top with parmesan cheese.