Pasta With Mushroom Tomato Sauce
-Sylvie-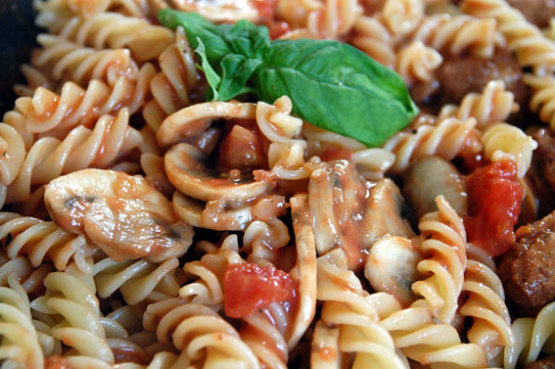 My brother, the carnivore, gave this his seal of approval: "It's good- the sauce is very light." He came back for the leftovers and had a second dinner later in the evening.

This makes a simple, but tasty pasta sauce. I don't like parsley so much so I used oregano instead. I'd probably add a few more herbs and some garlic next time and maybe even some bell pepper. Thanks for sharing! I'll add it to my list of meals for those days when you work a lot longer then planned, but don't want a take away! Thanks for sharing!
Wash and chop mushrooms (I buy the presliced ones and just cut the big pieces in half).
Heat oil in a skillet, add scallions and mushrooms and cook 5 minutes, stirring occasionally.
Add flour and cook for 2 minutes, stirring constantly.
Slowly stir in milk and tomatoes and cook until it makes a smooth sauce.
Stir in parsley, salt, and pepper.
Cook the pasta and drain.
Toss pasta and sauce.