Pasta With Mushroom, Bacon and Walnut Sauce
Chickee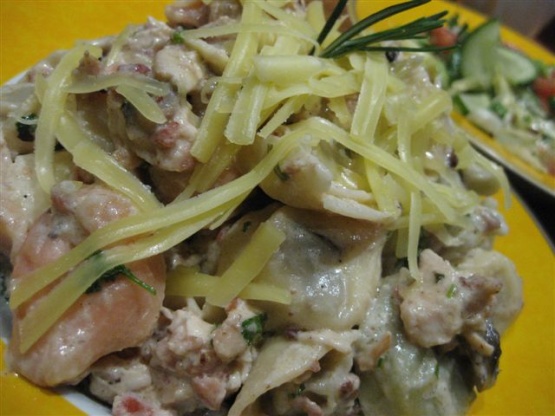 Use your favourite pasta to serve with this recipe. The original recipe suggested Tagliatelle.

Delicious and super easy. And VERY rich. The only change I made was to use crema instead of creme fraiche (availability), I think it translated perfectly. Thanks for sharing!
Edit: The next day I had some of this left over, and I added a spoonful of capers. WOW! I would recommend this addition very highly. It cuts the richness and adds a nice little zing.
Cook the pasta in a large saucepan of boiling salted water according to packet instructions, then drain.
Meanwhile, melt the butter in a deep fry pan over medium heat. Add the bacon and cook for 2 minutes. Add the garlic, rosemary and mushrooms and cook, stirring occasionally, for a further 5-6 minutes.
Add the creme fraiche and grated cheese and stir for 2 minutes, then add three quarters of the toasted walnuts.
Add the drained pasta and parsley to the sauce, tossing together until heated through.
Divide among sering bowls, then sprinkle with remaining nuts and extra cheese.