Pasta With Mascarpone and Sage
LianneNC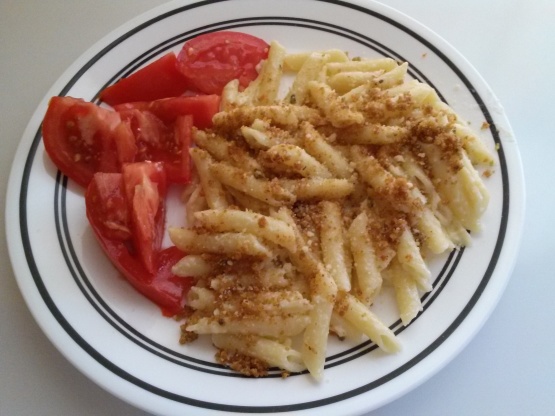 Originally from Gourmet or originally from my neighbor's cousin in New York? I think it's a toss up! Anyway, it is a change of pace. We like to serve it with my famous Roasted Chicken, Best Roasted Chicken You'll Ever Have!! and a big Merlot! Enjoy.

Super easy, quick and delicious-- easy to throw together, especially after a long work day when I had no idea what to cook. Luckily I had a tub of Trader Joe's mascarpone in the fridge and fresh sage from my garden. I threw in a sprig of thyme as well, and used a little of the pasta water to help the "sauce" come together. Served it with fresh sliced garden tomatoes, and was a hit with me and my picky husband!
Cook the pasta according to package instructions.
To a medium-hot skillet, heat olive oil and add bread crumbs, sage, garlic and salt and pepper to taste and saute for about 3-4 minutes.
In a large bowl stir together mascarpone and Parmesan and add pasta and toss.
At this point you might want to salt and pepper again.
Sprinkle the bread crumb mixture over the pasta as it is served.