Pasta With Lemon, Asparagus and Cheese
Nif_H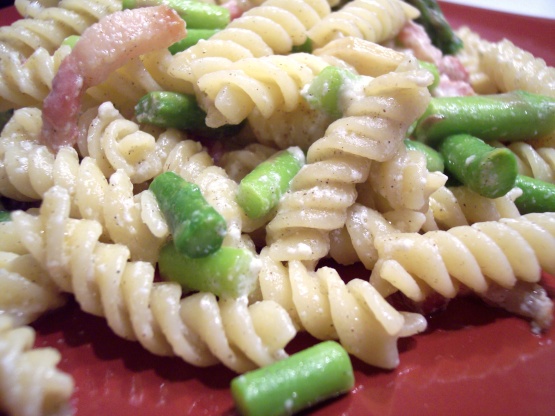 Recipe source: Prevention (April 2009)

This recipe saved my Sunday night meal when all I had sitting in the kitchen was bacon, asparagus, and penne pasta. This was quick and easy and had a great, light flavor. I agree with Nif's review. Don't be frightened by the amount of garlic or thyme. It came out juuuuust right!
In a small skillet over medium low heat cook bacon and garlic and cook until garlic is golden and bacon is done. Remove from heat and add lemon juice, zest and thyme. Set aside.
Prepare pasta according to package directions, but 4-5 minutes before pasta is done add asparagus. Remove 3/4 cup of water from pasta cooking liquid and add to bacon/garlic mixture. Drain pasta and then pour back into cooking pot.
Stir in bacon mixture to pasta along with the cheeses. Toss.