3 Reviews
This was a great way to clean out the fridge! I used 2 big leeks, a huge tomato, and added chopped asparagus about 10 minutes before the sauce was done. Then I added the spinach and let the sauce sit a while, so that the spinach would soften. I had to replace the chilis with chili flakes, and the garlic with garlic salt. I had to skip the pine nuts, as we were out of them, alas. I used way more cumin, and added black pepper and some other seasonings, as well as a cup of pasta cooking water to make the sauce liquid-y enough to coat my whole wheat spaghettini.

So, yes, lots of changes, but that's the mark of a good recipe--it's adaptable!

PS: The sauce was enough for 2-3 servings of pasta.
This made a pleasant change from the creamier cheesey or tomato sauces we usually have. Make this with olive oil for a tasty vegan meal.
This pasta had a mild and delicate flavor. I used butter (1 tablespoon), tomato and dried chili pepper flakes (1/4 teaspoon) instead of the olive oil, capsicum and red chilies and added about 1/4 cup pine nuts instead of 1/2 cup (to reduce fat a bit further). Served it with parmesan cheese on the side. Overall a subtle but very pleasing taste. Thanks for posting!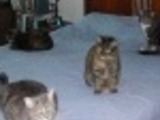 Pasta With Leeks and Parsley