Pasta With Kalamata Olives and Roasted Grape Tomato Sauce
Chickee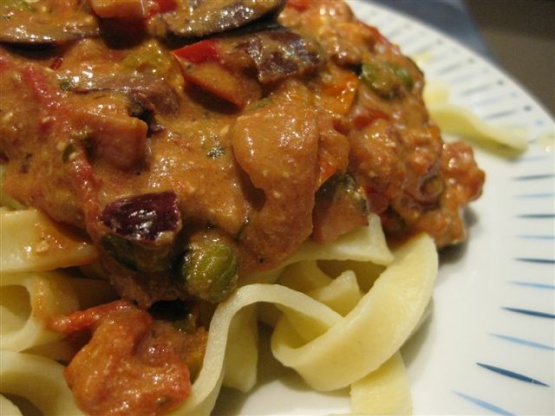 A restaurant worthy pasta dish filled with wonderful flavours such as roasted tomatoes, capers, kalamata olives, and feta cheese.

This is our favorite pasta sauce; we got it from epicurious a few years ago. I'm not a feta fan so I leave it out, but otherwise it's perfect. I've made it with chopped large tomatoes too and it's just as good.
Position rack in center of oven and preheat to 375°F Combine tomatoes, oil, garlic,.
vinegar, and crushed red pepper in 13x9x2- inch glass baking dish (I think you can use any baking dish!). Season to taste with pepper and a tiny bit of salt. Roast until tomatoes are tender and juicy, stirring occasionally, about 45 minutes. Stir in oregano. (Can be made several hours ahead. Let stand at room temperature. Later, preheat oven to 375 and reheat for 10 minutes while pasta is cooking.).
Measure and get ready capers, olives, and feta cheese. Rinse both capers and feta cheese to remove excess salt. Gently pat dry. Toast pine nuts for just a few minutes in a 300 oven – if using (Nuts can be toasted earlier in the day too! ) Watch the nuts as they toast so they don't burn – this happens very quickly.
Cook pasta in large pot of boiling salted water until just tender but still firm to bite. Drain. Return to pot. Add tomato mixture, olives, and capers. Stir over medium heat until heated through, about 2 minutes. Add feta and stir until melted and creamy, about 2 minutes. Divide pasta among plates; sprinkle with pine nuts and serve.