Pasta With Ham and Apple and a Cider Sauce
MaraFab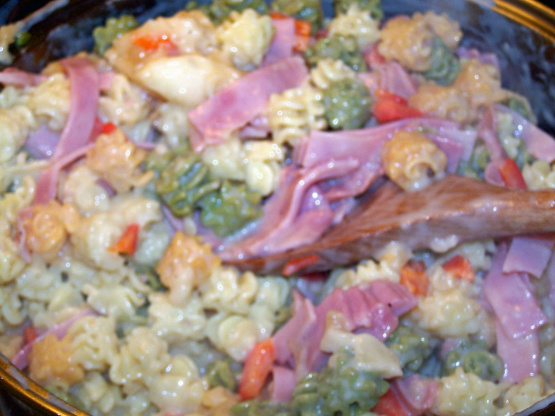 An unusual fruity flavoursome pasta dish that is perfect for a lunch or supper. Definitely an effort worthwhile.

I loved this recipe. It's unusual and tasty. It won't take as long as the prep suggests if everything goes on the stove at the same time. I used tri-color ruffle pasta and red bell pepper, but the pepper really adds a lot of flavor so I wouldn't recommend it if you aren't a pepper person.
To cook the sauce: heat the butter in a saucepan and add the flour. Cook for 2 minutes over a medium heat; do not allow it to colour.
Remove from the heat. Slowly begin to add the stock and cider. Stir between each addition to ensure a smooth sauce.
When half the liquid is added, return the pan to the heat and slowly bring to the boil. As it begins to thicken add the rest of the liquid. Allow to boil for at least 2 minutes, taste and season.
Make the pasta: bring a pan of water to the boil. Cook the pasta for about 12 minutes or until al dente.
Slice the ham into finger-length slices and set aside.
Core and cut the apples into wedges. Melt the butter in a pan and add the brown sugar, allow it to almost caramelize and fry the apple wedges.
Drain the pasta and add to the sauce, add the ham and apples, and peppers. Season with salt and pepper.
Reheat thoroughly and serve.
If you do need to keep this dish hot for a while add a little more stock or water. Mix in most of the apples and put in an ovenproof dish, cover with tin foil and place into an oven at 275°F.