Pasta With Garlic and Oil (Aglio E Olio)
Gessica1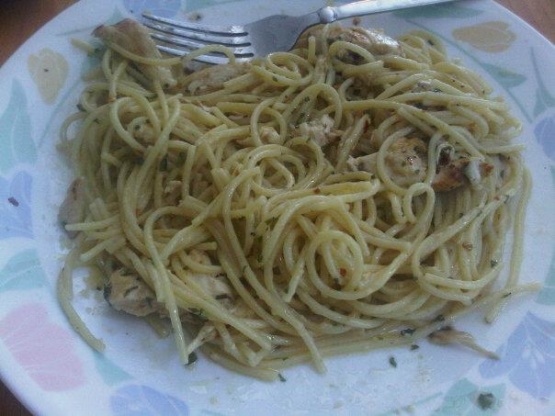 Easy and so good, if you love garlic then you love this pasta dish! adjust the garlic to taste, I use 4 tablespoons for this recipe, you might want to reduce that a bit. Increase the dried red pepper flakes for more heat!

This is one of my favorite recipes. To add a little more flavor, dissolve a can of anchovies in the oil while browning the garlic.
Bring about 5 quarts of water to a boil with 3 teaspoons salt; add in the spaghetti and cook only until firm-tender; drain but RESERVE 1/2 cup pasta water.
Start this when you are boiling the pasta; Heat about 4 tablespoons olive oil over medium-low heat in a skillet.
Add in 3 tablespoons garlic and about 1/2 teaspoon salt with black pepper to taste; saute stirring often until the garlic is light brown (about 6-8 minutes) remove from heat and stir in the remaining 1 tablespoon minced garlic, crushed red pepper flakes, parsley, lemon juice and about 2 tablespoons of pasta cooking water; mix to combine.
Transfer the drained pasta to a large serving bowl; toss with remaining 3 tablespoons olive oil and the remaining reserved cooking water.
Add in the garlic mixture; toss well to combine.
Season with more black pepper and salt to taste if desired.
Serve immediately with grated Parmesan cheese.
Delicious!