Pasta With Fava Beans and Lemon Sauce
Julesong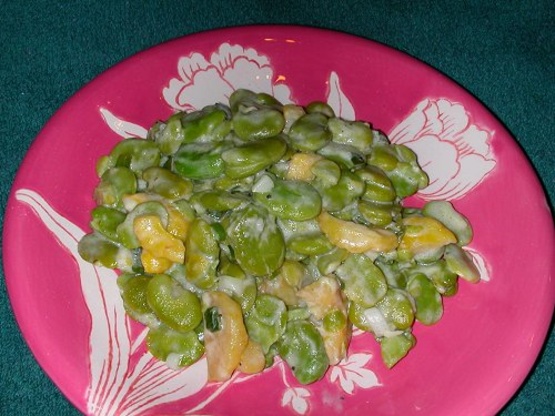 I think this is such a fabulous dish to celebrate Spring!! Fava bean (also called Broad beans) season is late spring and after the beans are ready to use this prepares so fast, you'll have more time to spend outside in the lengthening daylight. If you don't have access to fresh or frozen fava beans, you can substitute lima beans (not my favourite, but some like them) or edamame. This recipe is from Organic Style, 5/2005, I added a bit of garlic and garnished with a little mint. The prep time mostly is shelling the fava beans, the cooking time includes removing their outer skins.
Shell fava beans and cook in a medium pot of boiling salted water 2 minutes.
Drain and immediately plunge into a large bowl of ice water.
Peel off outer skins of beans---there is a dark green, thick ridge on the rounded side of the bean—starting there, pinch the skin and pull it open, once the skin opens a bit you can squeeze the bottom and the bean slips out into your bowl.
Cook pasta in boiling salted water according to package directions until al dente (you definitely don't want to overcook the pasta for this dish).
Reserve a half cup of the water the pasta has cooked in and drain pasta in colander, you don't have to worry about excess water in the "little ears" as it will help tie the pasta sauce together.
Return pot to medium heat, add butter and garlic, cook until garlic is soft.
Add half-and-half, heat one minute.
Stir in lemon juice, zest and pepper.
Add pasta and cheese, stirring until pasta is coated and cheese is melted.
Add favas and toss, adding a few tablespoons of reserved pasta water if pasta seems dry (the starch from the cooking water will help make the sauce creamy, it shouldn't seem sticky).
Serve immediately in warm bowls, garnishing with mint if desired.