Pasta With Eggplant (Aubergine)
flower7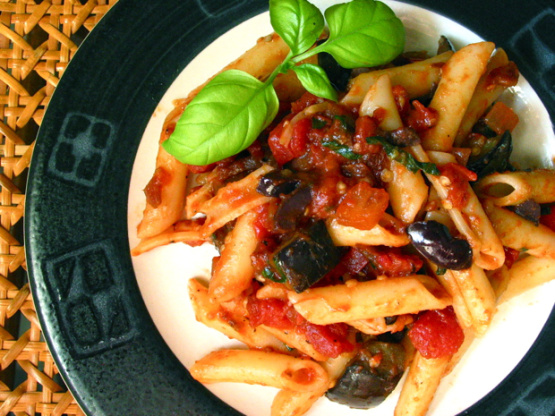 Very Mediterranean and very yummy! A good meal for vegetarians or vegans.

Very nice dish. My garden is overflowing with eggplant so I have been trying some different dishes. Great flavor but to me, the amount of pasta was just a bit too much. Oh, and the recipe says it serves 6, must be six huge football players, this makes a lot of food. Thanks for a ndew and different way of doing eggplant.
Heat 3 tablespoons of the olive oil in a large, deep skillet.
Add the eggplant cubes and cook, stirring, until golden brown, about 15 to 18 minutes.
Meanwhile, cook the ziti according to package directions.
When it is al dente, drain.
Remove the eggplant from the saute pan.
Add the garlic and the onion, along with the remaining 1 tablespoon of olive oil, and cook for 3 minutes, stirring.
Add the tomatoes and crush them with your fingers.
Add the cooked eggplant cubes and the olives.
Cook and stir 15 minutes, until sauce is thick.
Season with salt and pepper.
Stir in the basil.
Cook 2 minutes.
Add the ziti to the sauce and stir to combine.
Serve hot.