Pasta With Broccoli and Blue Cheese
vrvrvr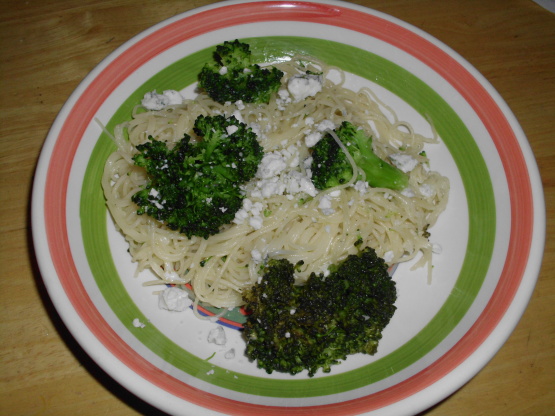 I used to make this a lot during high school. I had a few vegetarian friends (who ate dairy) who always asked me for this.

Delicious! I needed something in a hurry and wanted a change from my usual pasta with broccoli, garlic, anchovy & crushed red pepper. The blue cheese and broccoli really complement each other, and the whole thing went together in under half an hour. I wouldn't change a thing (except I did use about 5 garlic cloves and only half a pound of pasta). I used cabra azul (blue goat cheese) here in Spain. It was perfect for two as a main course, with a bit left over for lunch tomorrow. I'll be checking out your other recipes soon.
Cook pasta according to directions. Add the broccoli when pasta almost done to partially cook it.
Heat saucepan and melt butter. Lightly sauté the garlic. Add the drained pasta and broccoli and sauté for about 3-4 minutes, adding more butter if necessary. Add cracked black pepper.
Transfer to serving bowl and mix in the crumbled blue cheese and grated parmesan cheese.
Mix well and serve.