VickyJ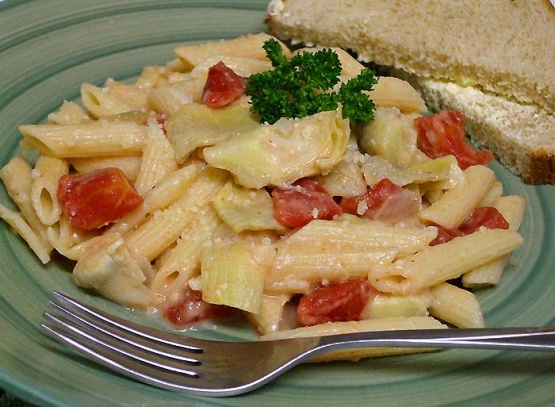 Fresh and good. You can sub the baby artichokes with regular artichokes, but you will need to trim and peel them to eliminate the tough bits, slice them into quarters, and cut out the choke. This recipe comes from a trattoria called La Fontanina di San Pietro on the Tuscan coast, and I found it in Gourmet. The suggested pasta is tagliatelle, but I like it with thin spaghetti.

Top Review by VickyJ
This was very delicious, but I made it for 1 serving and tried to approximate ingredient amounts. There were a couple differences. I didn't have fresh artichokes, so I used 1/2 cup artichoke hearts. I also didn't have thin spaghetti, so I used penne. Sorry for the changes, according to what I had on hand. I'll be making this again! :)
To prepare the artichokes, peel the stems, break off any tough outer leaves, and cut off the tip to remove the spines. Chop them finely as they are done, and drop them in a bowl of water acidulated with the lemon juice.
In a large skillet cook the scallion in the butter over low-medium heat, stirring until softened. Drain the artichokes, add them to the skillet, and cook them over medium heat for 5-7 minutes or until tender. Stir often.
Add the tomatoes and cook over moderate heat, stirring, for 1 minute. Add the cream and salt and pepper to taste. Bring the sauce to a boil and simmer, covered, for one minute. Turn off the heat.
In a large pot of boiling salted water cook the pasta al dente.
Just before the pasta is done turn on the heat under the sauce to low. Drain the pasta well and add it to the skillet. Toss the pasta and sauce together.
Serve the hot pasta with grated parmesan, a piacere (if desired).