Marlene.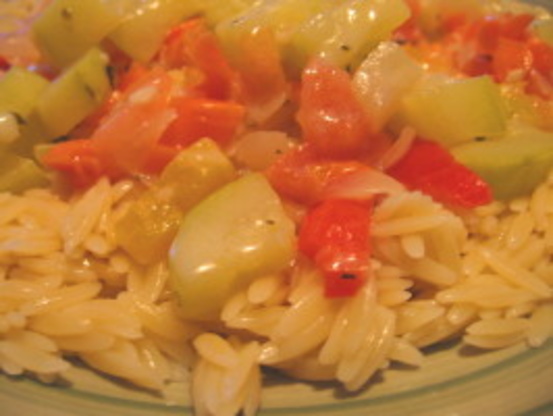 This is from a Moosewood cookbook. VERY delicious and full of veggies, so you feel good about eating it.
This was a VERY tasty dish , I did everything as written with the exception of adding mushrooms. If you're a mushroom lover, they'd make a great addition , I'm sure! Easy to make and like I said, very tasty. I was a TINY disappointed in the way it came out after adding the *white sauce* if you want to call it that. In the pan, right before that point, it looked SO colorful and so healthy. I might make this again and leave the white sauce out completely! ;) Thanks for submitting!!
Sauté onion, garlic& carrots in oil till onion is translucent.
Add peppers, mushrooms, zucchini, all herbs, and salt& pepper to taste and cook for 2 minutes.
Stir in wine, cover, and cook about 10 minutes until veggies are tender.
Melt butter in a small saucepan and whisk in flour.
Cook for 1-2 minutes then add milk gradually.
Stir constantly.
Cook till thickened; set aside.
Add tomatoes to veggies and cook 2 minutes.
Add the butter/flour mix.
Serve over pasta.