MsSally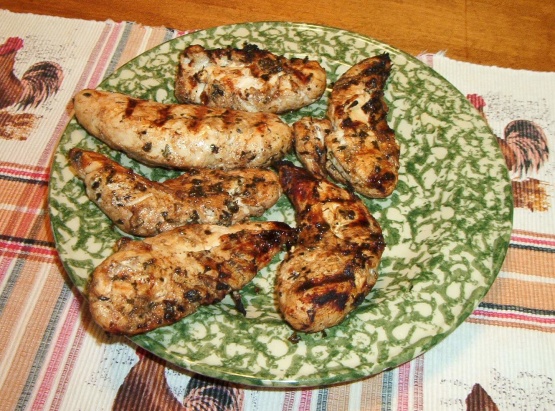 Pasta Sprinkle is a blend of sweet basil, Turkish oregano, thyme and garlic. You can buy it from Penzey's Spices. You usu. use it on red sauce dishes. It also tastes great on chicken. Very simple recipe. Prep. time does not include marinating.

This was fantastic! I do think I would cut down on the salt just a hair though...my balsamic may have been a little salty though. I let them sit 24 hours and then grilled the chicken. I sliced it and served it over a tossed greens and veggie salad. Absolutely delicious! I think I will making this whenever I grill to have on hand.
Mix oil, vinegar, Pasta Sprinkle, garlic powder and salt together and pour over chicken. Marinate in refrigerator overnight and grill or bake in oven.
If using oven, bake at 375° for 45 minute for bone in chicken and 20-30 for boneless.
Serve with a pasta salad tossed with corn and tomatoes and a little more Pasta Sprinkle.