Pasta Skillet With Tomatoes and Beans
Prep 10 mins
Cook 15 mins
quick, light vegetarian stovetop meal.
Directions
Heat oil in a large nonstick skillet over medium-high heat. Add tomato and garlic, and sauté 2 minutes. Add pasta, basil, salt, pepper, and chickpeas; cook 2 minutes. Place mixture in a bowl; stir in cheese and vinegar, and garnish with basil, if desired.
Most Helpful
Delicious! Feeds more than 4 people, too. I used a 15 ounce can of diced tomatoes for this, and next time I would use two cans. Needed a bit more liquid (this time I just poured in some chicken stock.) Everyone eating this enjoyed, and said the chickpeas are super filling. They are a great source of fiber and protein. Win!
Needed a very quick dish to fix for supper last night, and this looked perfect! I used angel hair and asiago cheese, combined as per recipe as written. The fresh basil I kept separate until the end, as BF doesn't like it (that means more for me :D). I also added a bit more tomato and a little less pasta. I topped with some leftover spinach which I steamed for a few minutes before adding. BF liked this a lot, as did I. Thanks for a super quick and delicious one dish meal!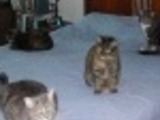 Easy to make. Used spaghetti rather than angel hair. Put parm. cheese on top at finish rather than into mixture. Delicious. Would probably be better with fresh chickpeas rather than canned. Looking forward to the leftovers.