Pasta Shells With Chicken, Mushrooms, Escarole, and Sun-Dried To
Prep 15 mins
Cook 20 mins
A wonderful, tasty and healthy dish. A great way to use up leftover chicken.
Directions
Heat oil in large deep nonstick skillet over medium heat.
Add mushrooms and sauté until tender, about 4 minutes.
Add garlic and crushed red pepper and stir 1 minute.
Add broth and bring to boil.
Stir in escarole; cover and cook 5 minutes.
Uncover and cook until escarole is tender, stirring often, about 3 minutes longer.
Season with salt and pepper.
Meanwhile, cook pasta in large pot of boiling salted water until just tender but still firm to bite.
Drain; return to pot.
Add escarole mixture, chicken, and sun-dried tomatoes.
Stir over medium heat until chicken is heated through, about 3 minutes.
Season with salt and pepper.
Transfer to bowl; sprinkle with cheese.
Makes 4 servings.
Reviews
Most Helpful
I have made this dish several times. It was printed in the Feb. 2002 Bon Appetit. I was going to post it but you beat me to it. When I first made this dish I found it needed something. I use 4 garlic cloves instead of the 2. For the liquid I use 1/2 white wine and 1/2 chicken broth. I saute the chicken after dusting in Emeril's Creole Seasoning, and at the end I add 4 TBS pesto. That seemed to do the trick!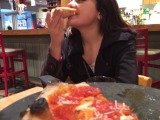 Ok so I didn't use any escarole, but this pasta gets 5 stars regardless! (Not sure what escarole is but I'm pretty sure I don't have any). I had to use stewed tomoatoes (canned) instead of sun-dried. I did add 1/2 cup tomato paste toward the end, and I stirred in 1 1/2 cups shredded mozzeralla cheese after that. It was so good we all had thirds! Thanks Bev!