3 Reviews
The lady cows and I got together, put our heads together, and gave this a unanimous 10 star applause! Oh so easy, oh so good, and oh so fresh! Full of goodness, a real slice of life! I followed this exactly, with no tidbit left behind. I used medium sized shells, and 21-40's shrimpers. Now, where is that dang fork?

This was delicious! We loved it. My little girl gave this 5 stars and said "It's great!" so I'll be making this again. Unfortunately, I had to leave out the peppers and celery because my little girl won't touch anything with those in there. Personally, I think it would be better with them but I have to do what I have to do to make everyone happy. Thanks, GailAnn!

This is another winner from gailanng! I used small pasta shells and salad-size shrimp. The vinaigrette was mild, yet tasty and the vegetables gave it a nice crunch. This is also very easy to put together, so I will be making this again. Made for Everyday's a Holiday Tag Game.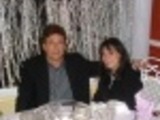 Pasta Shell and Shrimp or Ham Salad