Pasta Served With Avocado Sauce With Sun-Dried Tomatoes
Shuzbud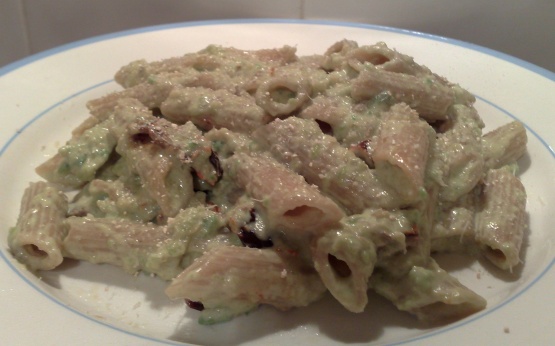 This is a lovely, creamy sauce and the sundried tomatoes break up the avocado flavour nicely. This recipe responds well to adjusting the proportions to taste. The weight for the sundried tomatoes is their dehydrated weight- I use about half a pack. If using smaller avocados, I find 4 works best to make the sauce thick enough. To make this dish vegetarian, use a vegetable stock cube instead of chicken.

This was very good. I used half cream and half milk, and added parmesan to the sauce to give it a bit more flavor. I also added some grilled chicken.
Finely chop the sundried tomatoes and set aside.
Halve the avocados and remove the pits and peel. Coarsely chop the flesh.
Melt the butter in a saucepan and add the garlic. Cook for 1 minute.
Add the cream and chopped avocados. Increase the heat (but don't let the cream boil), stirring constantly and breaking up the avocado flesh with a spoon or fork. Crumble in the stock cube for flavour.
Meanwhile, set the pasta to cook as per instructions (if using dried pasta, start boiling it earlier).
When the avocado has blended in, add the sundried tomatoes. Season with salt and pepper if preferred.
When cooked and drained, divide the pasta among four bowls and spoon the sauce over the top.
Sprinkle with grated parmesan and serve immediately.