Pasta Salad With Spinach, Olives, and Mozzarella
flower7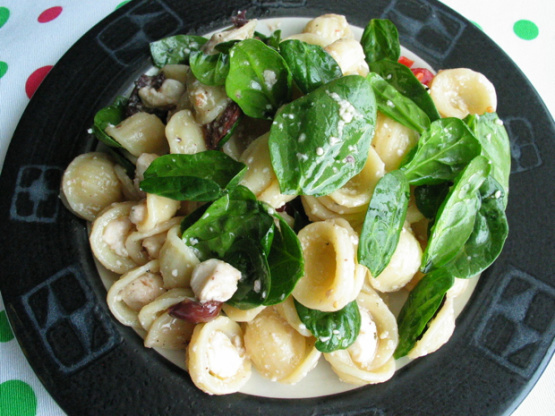 From Chowhound. The briny flavor of olives combines with creamy mozzarella and a tangy vinaigrette for a pasta salad that's a shoo-in for everything from brown-bag lunches to summer picnics.

This was very nice, but a bit salty for my taste with the salt in the dressing as well as the olives and parm (and I only used half the parm). After mixing up and tasting the salad I decided to add a couple handfuls of tomatoes as I had them to use, but also for the color they added and the help in cutting the saltiness they provided (next time I will probably add more tomatoes, I just used what I had). I found fresh mozzarella in tiny balls (called perlini) so didn't have to cut up the mozzarella. Otherwise made as written. Thanks for sharing!
Bring a medium pot of heavily salted water to a boil over high heat. Cook pasta according to the package directions, or until al dente. Drain, then rinse under cold water until cool.
Transfer pasta to a large bowl and add mozzarella, spinach, olives, and Parmesan. Toss to combine.
In a separate, nonreactive bowl, combine vinegar, salt, and pepper. While whisking constantly, slowly add oil by pouring in a thin stream down the side of the bowl. Whisk until completely incorporated.
Pour vinaigrette over salad and toss until pasta is coated. Taste, adjust seasoning as desired, and serve.