flower7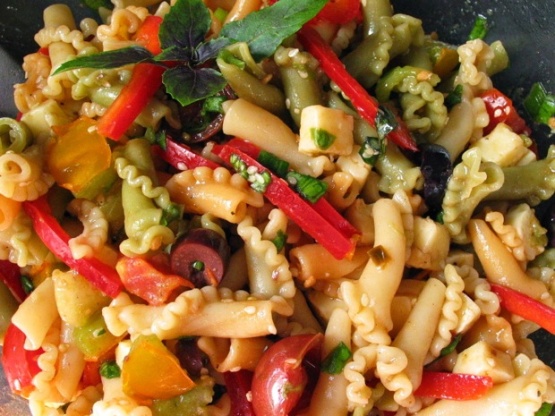 The garden promises to bring so many wonderful tastes to the farm table. Every summer we behold the wonderful bright early tomatoes and fresh basil. Simply fixed with a little dressing and good wholesome whole wheat pasta is highlighted with olives and mozzarella.

Very tasty and pretty salad. I made a couple adjustments - only 7 oz tri-color gigli pasta and double the dressing (though I only had celery salt so used 1/4 tsp with no other salt). For the additional ingredients I used red bell pepper not green and local organic pepper jack cheese (instead of the mozz and pepper flakes). I also used heirloom tomatoes and kalamata olives with fresh basil I grew myself. I am looking forward to enjoying this for lunches at work this week. Thanks for sharing!
Cook pasta for 10-11 minutes. Darin in colander and rinse under cool water. Shake dry.
Make the dressing by whisking the olive oil into the vinegar and add seasonings.
Place pasta, mozzarella, vegetables, and olives in a large bowl. Toss together and add dressing a little at a time. Mix gently. The dressing can be added more if necessary.
Sprinkle additions to top.