kolibri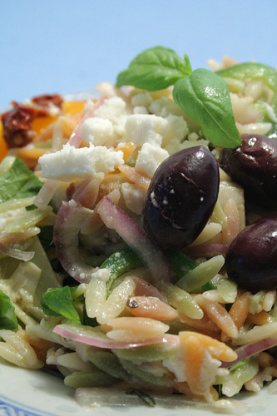 Not your typical pasta salad; it's better:D I got it from a coworker and I tweaked it at home. It came out so well I thought I would post it. Its popularity at work was due to adding dressing sparingly. Start with a quarter cup, then taste and adjust if you think it's necessary. I've included instructions for a low-fat Italian dressing that I made with an envelope of Good Seasons Italian dressing mix. If you're not concerned about your fat intake, you can follow package directions (or use your favorite Italian dressing). I was able to make this in 20 minutes by cutting veggies while orzo was cooking and served it as a one dish meal. A good pot luck dish too (can be doubled easily).

I brought this to our ladies bunko night and it was a big hit! I used 3/4 cup of dressing. I did not rinse the pasta and, of course, it got sticky. I mixed 1/4 cup of the dressing into the pasta and mixed it in to loosen it up - worked great and the pasta absorbed the dressing. It sat while I prepped all the veggies. A repeater!
1

cup orzo pasta

1

(14 ounce) can artichoke hearts, drained and quartered
1⁄2 cup sun-dried tomato, cut into strips (not packed in oil)

1

yellow bell peppers (capsicum) or 1 orange bell pepper, cut into strips (capsicum)
1⁄2 small red onion, diced

15

kalamata olives, pitted and halved
1⁄2 jalapeno pepper, minced
1⁄4 cup fresh parsley or 1⁄4 cup fresh basil, chopped

1

garlic clove, minced

2

ounces feta or 2 ounces goat cheese, crumbled

2

tablespoons parmesan cheese, grated
1⁄2 teaspoon salt (to taste)
1⁄4 teaspoon pepper (to taste)

1

(2/3 ounce) packagegood seasons Italian salad dressing mix
1⁄4 cup cider vinegar (I like to use a bit more vinegar and reduce water accordingly)

1

teaspoon sesame oil or 1 teaspoon olive oil
1⁄2 cup water, plus

3

tablespoons water
Cook orzo in 2 quarts water for 8-10 minutes or according to package directions and drain.
Add other ingredients up to Italian dressing mix and toss gently with a large spoon.
Combine the vinegar with 3 tablespoons water. Add Italian dressing mix and shake well. Add oil and rest of water and shake well. Measure out a quarter cup, pour over salad and toss gently.
Taste and add more dressing (a little at a time) if desired. Can be served immediately, at room temperature or chilled.