Pasta Puttanesca ( the Madame's Pasta )
Tinkerbell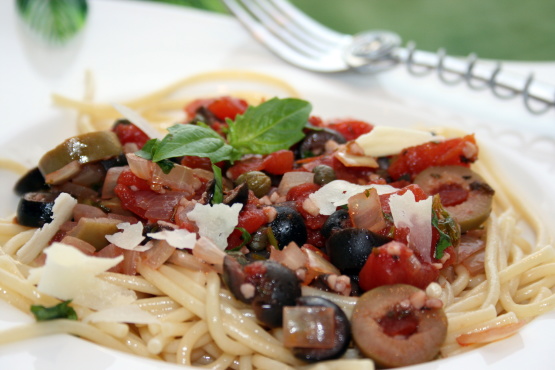 I would rather have a plate of this over spaghetti any day. In the absence of a tomato sauce... the flavors really stand out. This dish originated in the red light districts of Italy when the ladies of the night needed a quick and cheap meal after a long nights work "at the office."

Delicious! Left out the anchovies. Came out great! I had to make it twice (won't go into why) once using half red and half white wine and once using all red. I think I liked the combo better than all red. It was a little lighter and brighter. Both versions were great. Thanks for posting.
Sauté onions, garlic, and pepper flakes in the olive oil for about two minutes until fragrant.
Add tomatoes and half of their juices, sugar, wine, fresh parsley, olives, capers, anchovy paste,(or anchovies)and Italian seasoning.
Bring to a boil and simmer about 25 minutes, stirring occasionally, and adding more reserved juice if it becomes dry. Break up large chunks of tomatoes but please leave a chunky consistency, we're NOT making spaghetti!
While this is simmering, prepare spaghetti until done and drain.
Sauce should be ready now so combine pasta and sauce and toss well.
Top with parmesan cheese and fresh basil.