Prep 20 mins
Cook 25 mins
I know, I know, lots like this posted here but this one's thick and chunky with bold flavors.
Directions
In a large pot, bring 1 gallon water to a boil over high heat. When water boils, sprinkle in 4 tsp salt and add pasta. Stir well and cook about 12 minutes or until just tender, al dente.
As soon as you put water on to boil, start sauce. In a large saucepan, heat oil over medium heat. Add garlic and cook, stirring, 2 minutes, being careful not to burn. Add onion, salt, pepper, basil, thyme, and oregano and stir, cooking for 5 minutes. Add anchovies and anchovy oil, raise the heat to medium high and cook 1-2 minutes, stirring and mashing up the anchovies.
add tomeatoes, using your hands to crush them up a bit, and add all the juice. Add bay leaf and red pepper flakes and simmer 5 minutes. Add olives and capers and simmer andother 5-10 minutes. Taste and adjust seasoning.
Drain pasta and place in a large bowl. Toss with warm puttanesca sauce and serve.
Most Helpful
I was looking for a Puttanesca sauce that does not require wine. Now I found it!! Excellent and easy to make. I used two servings of this sauce and added cooked shrimp and served it over pasta. Next time I make this recipe, I will add chicken to it.
This is truly outstanding and chock-full of flavor! I made this exactly as posted, using all fresh herbs and a 28-oz. can of whole cherry tomatoes. I did not chop the kalamata olives, but just halved them. I served this over rigatoni, and it was perfect! A wonderful, wonderful recipe! You only need one puttanesca recipe, and this is it!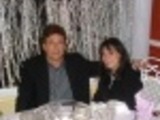 This was a good, easy pasta to make. Had all the ingredients at home (except the anchovies, which I omitted). I sprinkled some feta cheese on top for extra flavor!