Annacia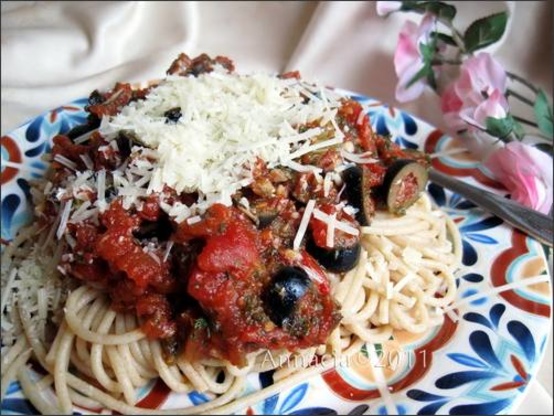 Spicy, yummy, quick tomato sauce you can impress somebody with, perfect for a romantic dinner. It's spicy and bold like the Italian ladies of the night, where it gets its name from:)
Cook pasta and drain.
Meanwhile in a large skillet heat the oil over medium heat. Add garlic and cook until slightly soft.
Add the drained tomatoes, olives, capers, anchovies, basil, oregano, and crushed red pepper flakes.
Bring to a boil stirring occasionally. Then reduce heat and simmer for about 15 minutes, adding reserved tomato liquid if needed.
Season with salt and pepper and serve over pasta.
Sprinkle with parsley and grated cheese if desired. Garlic bread and some good red wine go great with this too!