BecR2400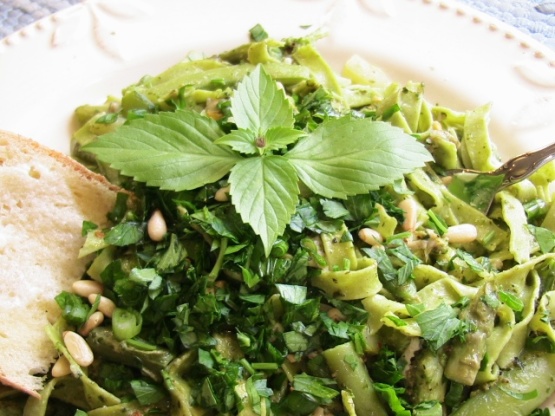 Fresh, light and tasty describes this Italian style linguine and fresh veggies dish! You can vary the ingredients according to what's in season. Our favorite is with seasonal fresh asparagus, and the addition of pesto and clams. Very nice with a glass of dry white wine and a crusty loaf of Italian bread or sourdough. Adapted from Julee Rosso's "Fresh Start" cookbook.

Thanks Bec, for answering my post in the Recipes forum for a meatless entree. This was so delicious and a feast for the eyes! I used Recipe #301899 and omitted the dill (this pesto is so assertive the dill would have been lost). I heartily recommend the addition of clams! I love clams but haven't bought them in about 15 years (!) so thanks for bringing them back to my meals! I didn't even use expensive clams (Bumble Bee brand) and yet they added so much to the dish! Thanks again, Bec, for posting. Roxygirl
Bring 4 quarts of water to a rolling boil and cook the pasta for 8 to 10 minutes, until al dente.
Meanwhile, steam the broccoli and beans in a steaming basket set over 1 quart of simmering water for 4 to 6 minutes.
Remove the broccoli and beans and set aside.
Add the peas and asparagus to the steaming basket and steam for 3 to 4 minutes. Remove and set aside with the other vegetables. Reserve the steaming broth.
Drain the pasta and return it to the pot. Add the vegetables, dill, garlic, scallions or green onions, pepper flakes, oil and 1/2 to 3/4 cup reserved steaming broth (omit broth if using pesto), and heat over medium heat for 1 to 2 minutes, stirring to coat thoroughly. Add pesto and baby clams, if desired.
Season to taste with salt and pepper. Garnish with snipped fresh parsley and toasted pine nuts, and grated Parmesan cheese at the table.
Serve immediately.