loof751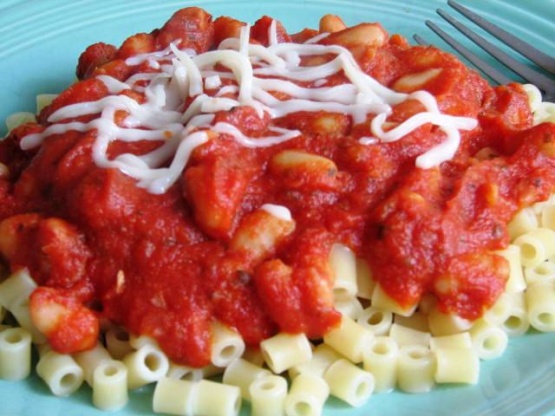 This is an Italian dish that my mother always made. It takes less than five minutes to put together, very little time to cook and is INEXPENSIVE, EASY, and makes great leftovers!

Great quick and easy pasta dish! I had this for lunch and it was just as easy as fixing a can of soup but way better! I halved the recipe and did add some basil. I used ditallini pasta as that was what I had on hand. Thanks for posting this easy and yummy recipe!
Boil the pasta shells according to package directions.
Add salt to the pasta water.
Heat olive oil in a pot and add minced garlic.
Add cannelloni beans AND the liquid from the cans. I like to mash one of the cans of beans up just a bit, to help thicken the sauce.
Add tomato sauce.
Mix well and simmer until pasta is done boiling.
The longer you let the sauce simmer, the more the flavors will meld. Drain pasta. Serve the pasta with the sauce over it. Enjoy!
Note: this is great with garlic bread!