Pasta,Mushrooms and Broccoli W/ Creamy Tomato Sauce
VickyJ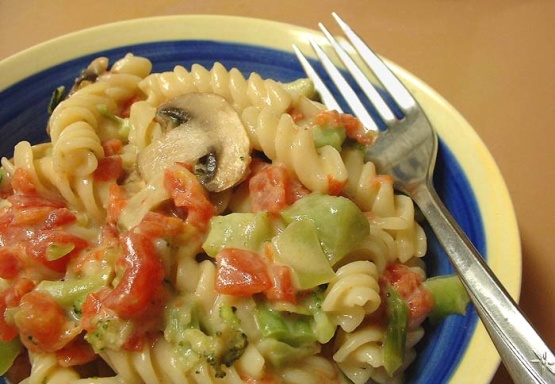 I am not partial to pasta salad, but my husband is,and this one is the only one I truly like.It's from a cookbook titled The Pasta Salad Cookbook. The only changes I made was to slice the mushrooms thickly,and add some Parmesan while mixing it for the final time - and of course, add more to my serving.
Cook pasta until al dente,drain and toss with 1 tbl.
olive oil.
Heat 3 tbls.
olive oil in a large skillet,add the mushrooms and saute quickly over high heat until golden Rmove from heat and add cream,tomatoes and seasonings.
Mix well and cool to room temperature.
Toss the mushroom,tomato and cream mix with the pasta.
Add the broccoli just before serving and toss gently again.
Taste for seasonings and adjust to your liking.
Serve at room temperature and pass the grated Parmesan separately.