mo144884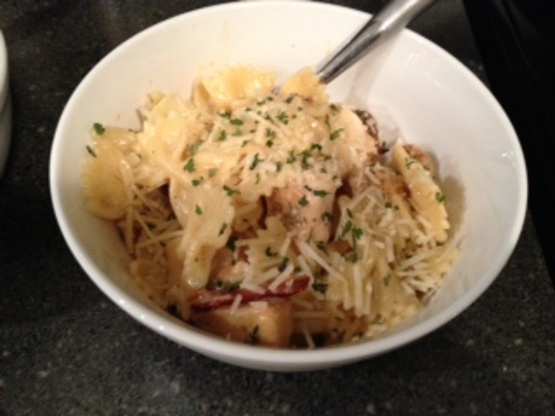 This is my favorite thing at Macaroni Grill. My cousin found this recipe for me and I can't tell you how many times I have made it.

The best! Our family loves it! 36 ounces of bow tie pasta was a lot so I am reducing it to 24 oz. the next time I make it. There was so much pasta, that the sauce wouldn't go very far.
Here are a couple tips that will help you make this wonderful recipe:
-24 oz. of bow tie pasta instead of 36 oz.
-Use jar of sundried tomatoes that come in olive oil and come in a jar (dried ones that come in a bag are just too tough to cut and don't seem as flavorful)
-Use roasted garlic that comes in a jar
-Buy heavy cream, not heavy whipping cream
Outstanding!
Wash and dry chicken breasts.
Mix garlic powder, salt, and pepper and sprinkle on chicken.
Grill chicken on the stove top in a skillet or outside on the barbecue grill, until it is done all the way through.
Set chicken aside.
Place pasta in salted boiling water and cook for 8-10 minutes or until al dente. Drain.
Meanwhile saute the mushrooms and tomatoes in butter until soft.
Place heavy cream, roasted garlic, pepper, salt, and parmesan cheese in food processsor and puree.
Place cream mixture in a sauce pan and bring to a boil. Turn down heat and simmer for 15 minutes or until sauce has thickened.
Mix in mushrooms and tomatoes and add to the cooked pasta.
Slice the grilled chicken and place on top of the pasta.
Garnish with fresh parsley and grated parmesan cheese.
Serve with salad and garlic bread.